The story of these shawls began at the 2013 Unwind Fibrecraft Retreat in Dunedin.  As Margaret had been largely focused on caring for her ill husband in the previous months it was the first time in some time that she felt she had the mental space to play with design.  Along with the care and affirmation she received from being in a community of  knitters, as anyone who has cared for someone who is ill knows – the freedom of not having to be constantly watchful allowed her to "unwind"
As she had left home she had grabbed some needles and a single skein of heavy lace weight yarn she had bought several months before at Skienz in Napier when she was there for Knit August Nights. She wasn't sure what she was going to use it for – it was a symptom of how tired she was that she didn't have anything to knit. Over the course of the weekend she began what in many ways started off as a knitting doodle probably partially inspired by some conversations about the complexity of Filmy Fern for less experienced knitters.
Using just the single skein of yarn she built out a small triangular shawlette pattern which was then knitted as a KAL by knitters who had attended.  As the lace fern pattern is quite modular the shawl size can be increased in several ways and it also works well in different weights of yarn – from an ethereal silk/merino blend lace weight to a soft and smooshy merino/cashmere blend double knit.
The results were shared at Unwind 2014 which sadly Margaret was unable to attend due to her husband's recent death.
Next steps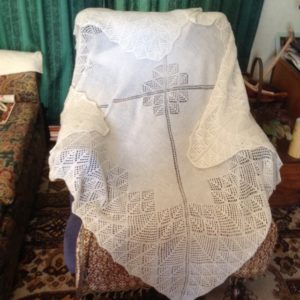 Later in 2013 the considerable publicity for Filmy Fern following it's use for New Zealand's baby gift to the Duke and Duchess of Cambridge, led to some reflection about the potential for a simpler shawl pattern that would be a more accessible project for intermediate knitters. Margaret's daughter, Sonja suggested that maybe the Unwind shawl could be adapted into a square baby shawl by mirroring the pattern mirror and introducing a plainer central panel.
While the first experiment yielded a beautiful shawl it was somewhat larger than expected as even in a commercial 3 ply  it was the size of a double bed. Consequently the pattern was re-knit in a standard 2 ply lace weight (approximately 900m to 100gm).
This shawl was gifted to Margaret's granddaughter, Kayla for her first baby.
Fern Foundations
The shawl was  then test knit in a pure wool hand dyed lace weight yarn from Vintage Purls and entered in to a Creative Fibres exhibition as Fern Foundations in 2017.
Finding the pattern
If you would like to knit the original Unwind Shawl the pattern is available from Holland Road Yarn Company or on Ravelry.
The Ravelry project gallery provides a good range of examples of the shawl knitted in different weights.
The full size baby shawl is likely to be published in a future collection of patterns.